It Was a Nightmare on Elm Street at the CincinnADDYs
As a creative, it's not everyday you get to splatter blood across text or produce a video that looks more like a trailer for a horror film than it does a marketing piece–and get paid for it! Luckily, we get to do just that year in and year out for our friends at the USS Nightmare, Cincinnati's only haunted attraction on the Ohio River.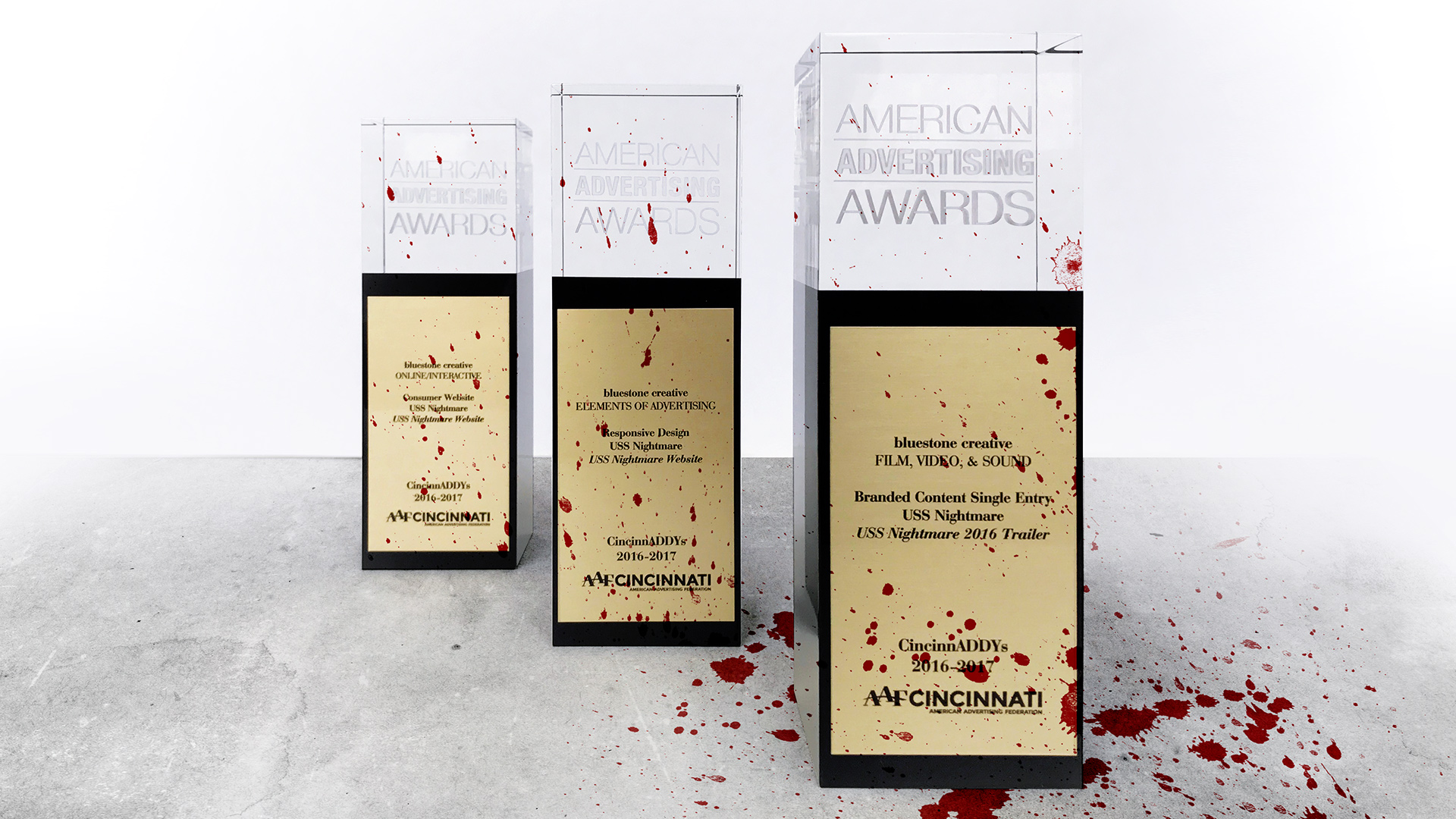 On Friday, March 3rd, our industry's annual celebration of all the great work produced by Cincinnati's plethora of talent, the 2016-2017 CincinnADDYs, was held at the newly revived Memorial Hall in Over-the-Rhine. It was a genuinely surprising and humbling feeling to have the passion work we do for the USS Nightmare team recognized so widely by our peers at the event. We are thankful for the opportunity and creative freedom our client gives us and have always felt it shows in the work–bringing home three Gold Addys for such unique subject matter only supports that idea. We, of course, couldn't have done it without our dear friends at Alias Imaging who were responsible for the kick-ass cinematography and Sound Images whose sonic mastery is second to none. It was great to see those guys take home awards as well.
Our category wins are listed below or check out our USS Nightmare work here.
GOLD ADDY AWARDS 2016-2017
USS Nightmare Website
Elements of Advertising – Responsive Web Design
USS Nightmare Website
Online / Interactive – Consumer Website
USS Nightmare 2016 Trailer
Film, Video, & Sound – Branded Content Single Entry
SILVER ADDY AWARDS 2016-2017
USS Nightmare Social Media
Online / Interactive – Social Media Campaign
A big thanks to the American Advertising Federation (AAF) and Memorial Hall for the good times and hospitality!